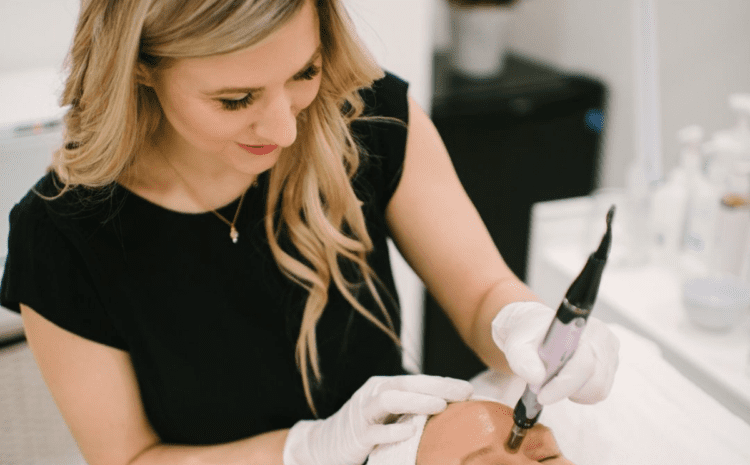 Clinic of the Month – Glow Dermal Therapy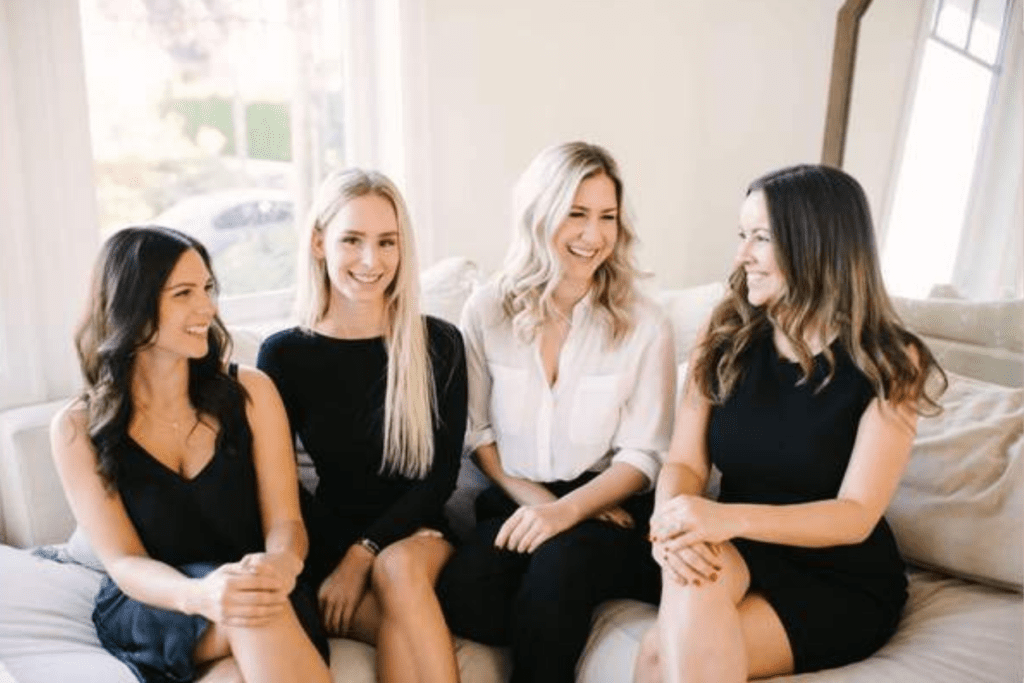 I am so excited to introduce you all to Amanda Hlatky from Glow Dermal Therapy all the way in beautiful Vancouver! 
I remember meeting you at the coffee shop in Vancouver, and it was the most interesting conversation I've had with anybody wanting to bring in Dermaviduals, because you were just like, "Yes. I've done my research, I like it, and this is what I do." 
I remember the first meeting too! I reached out to you because I had done a lot of research. I've lived in Australia, and dermal therapy is a huge thing there. So, I already knew about Dermaviduals, so I contacted you and said "I need to carry this, I love the ethos and the brand and the science behind Dermaviduals." 
And six years later to this day, it is our top selling cream. The High Classic is gold to us, people love it so much. 
Even in this crazy time of COVID, your clinic did not stop or pause or whatsoever. What is the fundamental mission of Glow, and what is it that you strive for?
Our whole team wants to be the naturopaths of your skin. A lot of places are either really clinical, they want to work on a certain condition and leave, and then there are spas that just want to give you that relaxation. We want to merge that world. You can come in and get your medical services with us, or you can get your relaxation. But no matter what, we always have an intention to get you to your goals and to relax your whole body. And we have a lot of relationships with our clients and we care about them, they're not just a number to us. 
It's a privilege for us, we feel so honoured that people trust us. We want to do the right thing by them. It's a really open collaborative environment here.
You have a very unique and sophisticated brand. How do you set up the care of your clientele to ensure the outcome is what you strive for regardless of who is providing the service? 
I think number one is hiring people who are passionate. My team now all have that same level of care and attention that I personally give. We're also hugely into personal development and team development. We have a lot of training days and extra training videos and we have group chats on Instagram, Slack and email where we're always sharing our knowledge and growing together. So I think it's just hiring people that care as much as you do and to have that same vision, we all want to grow together.
I didn't realize how important that was until growing the team. Now I always hire on values fit first and foremost, then second is skill level, and then commitment to growth and to educating yourself.
I particularly love the value that you provide on your social and your website. You're educating your clients which I think is so important. People want to be informed and want to make choices based on the knowledge that they gain. So kudos to you and your team for really putting valuable information out there for people to consume in order to make the right choice for themselves.
I'm so glad that you're touching on this. I've worked with marketing companies in the past, and what I've noticed is a lot of fluff. One of the things with Glow is I want to create beautiful content, but I also don't want to just throw fluff out into the ether. We want to create a community based around education and value so that when you see the post, you can feel nice and lovely things from seeing beautiful imagery, but you also get value.
You have a lot of young members on your team as well, and one thing that stands out to me is this exuding of confidence. Every single one of you has a smile on your face and there is this aura of confidence. Do you attribute that to the personal development that you do as a team? Or where does that come from? And, how do you nurture that as a business owner?
I think that's probably one of the proudest moments for me as a founder. Some of the team members were quite young when I hired them, and at the beginning, I thought "Well, they have the capacity to take on all of this knowledge and learn." With one of the team members that I'm thinking of, she has grown so much in her field and in her pursuit of knowledge and training and development, it just makes me feel so much pride. Because the team that I hired, I say to them, "There is a lot of training that we're going to have a lot of reps come in, we're going to have webinars, we're going to have training days," and the whole team is really excited about those things and committed to learning. 
Watching the confidence grow over the years that they're with me is, I think, attributed to all of that advanced knowledge. Because when you see the changes that you make in your clients on a day-to-day basis, and you're learning things that will consistently help them, there's a confidence about that.
I also really love that you keep your eye on your own game. You're aware of all the things that go on, but you have clarity around what your mission is and what you want to accomplish. You're quite happy to walk to the beat of your own drum which inspires me.
In the beginning, when I opened my practice, I was so small that I think a lot of people doubted me or didn't realize how serious I was. I had such a strong vision of what I was going to create, and I was so dedicated to it and dedicated to my clients, that I was like, "Yes, I will do this. I got it."
You are a multi-product clinic, which is wonderful. So tell us a little bit about why Dermaviduals? What does it mean for your clients? What does it mean for your team? 
I learned about Dermaviduals when I was living in Australia. They have such a dedication to skin, much more in-depth than we do in North America. I love the whole thing about barrier repair with Dermaviduals. It's so far and above a lot of other skincare lines. 
A lot of times people will come to us from other clinics, and they've been put on other medical lines that have completely stripped their barrier. There have been clients where I'm afraid to touch their skin, it's so fragile. So we go on to a barrier building MO. And what I love about Dermaviduals as a whole is its lipid surmise and cholesterol is all in the make-up of your own skin barrier. So let's start slow, let's rebuild your barrier. Let's go back to baseline, because if your barrier is functioning properly, everything else that you do is causing this inflammation response, or the products aren't going to work into your skin because your barrier is so disrupted. 
So ultimately, what I love about Dermaviduals is the respect of the barrier and the rebuilding of it because I've seen it work miracles for people that have that sensitized red irritated skin. I've watched it magically change in a matter of weeks.
What was your team's experience? Did you find the learning curve difficult or was it what you expected?
I think it was what I expected because I have that training in Australia and the level of expertise is so high there. And I think with you, especially, you've been so good about education. That's something I really admire about you. You're really invested in your client's growth, and always make sure that we have the knowledge. If we have any questions, we write you an email and within 10 minutes, you're like, "here's the answer," or "here are my thoughts." It's been really great open communication with you.
Thank you for sharing that. Open communication to me is really important, and that accessibility to me is something I really enjoy and thrive on.
Also, I wanted to mention that something I see as fundamental to your work, is you take the time to repair the skin barrier. You can poke the bear if you choose to, but you and your team are so good that you can push the boundaries because you also consciously make sure that you're repairing the barrier on the other side of any treatment that you offer. 
Yes, this kind of goes back to what you were saying about me having a vision of beating to my own drum. For me, it's a science lab of what works and what I've seen work. One client, in particular, came to me for micro-needling, but she had a lot of scarring. Her skin was so sensitized, so red, so inflamed. But she was adamant about wanting the micro-needling treatment, and I said, "No, I'm sorry, we can't. What I'll do for you today is I'll put you into the LED light, we'll do some red light therapy for the next few weeks, we'll get you on this Dermaviduals routine, we're going to calm you down." 
Now it's been a year and we've done the needling, and her before and after make me want to cry, her skin looks phenomenal. Now her friends are all coming to me because they're like, "What did you do and why?" 
I know in the Corneotherapy world some people don't believe in micro-needling and others do. For us, we find it's a fantastic treatment. But the barrier has to be there. It has to be healthy and ready to heal itself.
I would love to know, where do you go from here? What does Amanda's brain have in store for her business that her team doesn't even know yet? What's your next big thing?
We just had a big move because we brought on a clear silk laser, so we've been really focusing on that lately, it's been taking up all of our time and attention because we're really excited about it and all the learning around that.
I was also scouting some locations in LA because a few women that I know have an opportunity for me there. But after visiting and scouting places, I'm going to table that for now. I just want to work on fostering and nurturing what we have here and we're looking at potentially bringing on a couple more team members. Whenever I have a month where I'm caught up and I can coast, that's when I'm like, "Nope, I want to do something else, I want to learn." So I'm trying to coast, but I don't always know how to do that.
I am so grateful for you to take the time out of your day to share everything about Glow Dermal Therapy and the amazing work you've done over the last few years. I wish you the best down the road and thank you for having me in your world and I am just here cheering on your great success and so honoured to be working with you guys! 
It's been such a pleasure having worked with you and this brand for the last six years, we feel lucky that we have something that we have in our back pockets. It's nice to have everything that's supporting and strengthening the barrier, and it's been a lovely company to work with. 
Be sure to check out their Instagram, Facebook, and website to learn more about the fabulous work going on at Glow Dermal Therapy.
This blog was originally posted on dermaviduals.ca.