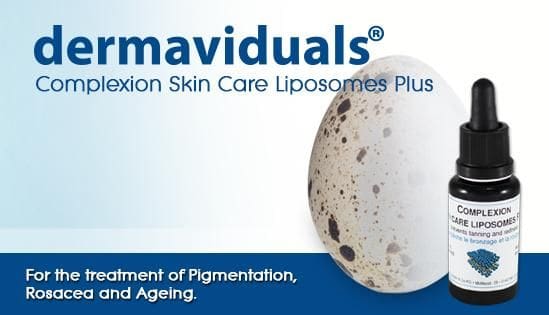 Your Skin: an un-spotted egg
Why on earth cosmetic companies decided to compare non-pigmented and even toned skin to an un-spotted egg is a complete mystery. I suppose it is a cute analogy, but it is no joke to those who face this skin concern.
Next to ageing, uneven skin tone is a top complaint in Skin Correction Clinics and Medi Spa's. The fact is, it is easier to stimulate the fibroblast responsible for the production of collagen and elastin than to regulate the melanocyte responsible for pigmentation. While society perceives a youthful looking skin as both smooth and even in tone (reds and browns), we as an industry have struggled in the 'even tone' department.
On the positive side, life is a journey and science have become smarter! Lucky for us, as Skin Care Professionals, we are operating in exciting times where we are now able to deliver products to our clients that truly make a difference while we keep what nature has given intact. We are achieving results while maintaining the epidermis!
Dermal Systems Inc is proud to introduce to you the latest addition to thedermaviduals® brand:
Complexion Skin Care Liposomes Plus
The name says it all! However, if you know me, you'd know that we are going to look deeper!
The product description indicates that it is "for even complexion and reduction of skin redness" and that is exciting. Now, let's turn the bottle around and we see the deck of ingredients as follow: Aqua, Alcohol, Pentylene Glycol, Glycerin, Lecithin, Niacinamide, Tranexamic Acid, Sorbitol, Xanthan Gum, Disodium Phosphate, Potassium Phosphate.
Now let me just gather myself here before I get too excited! Three of these ingredients immediately jump out at me.
Lecithin: A wonderful skin identical carrier, lecithin enhances skin absorption. It forms part of what we call the "dermaviduals® Enhanced Active Delivery Technology". It so happens to biodegrade into lipids that will form part of your skin barrier lamellar structure improving skin barrier defense.
Niacinamide: Also known as Vitamin B3, this water soluble vitamin is a powerhouse and multifunctional. Vitamin B3 is a transfer inhibitor of the melanosome. Hence, it plays a vital role in the treatment of pigmentation. The literature mentions its benefits in wound healing. This cell-communicating ingredient also improves skin elasticity, enhances skin barrier function, helps improve skin discolorations and revive the skin's healthy tone and texture. Studies show that Niacinamide increases ceramide and free fatty acid content of the epidermis decreases TEWL and increases dermal microcirculation.
Tranexamic Acid: A synthetic analog to the amino acid lysine, it is better known in the medical field for its use in the treatment of controlling bleeding in trauma patients. Its mechanism of preventing the activation of melanocyte from UV light, hormone and injured keratinocyte through the inhibition of the plasminogen activator system, means there is a benefit of its use in pigmentation skin conditions. Research is indicating this benefit even in Melanin Stimulating Cascade Pigmentation (Melasma). Due to the lysine relationship, Tranexamic acid also plays a role in collagen synthesis. Due to the liposomal delivery of this ingredient, results can be achieved even at lower percentages, allowing for its addition in a cosmetic formulation.
In summary, Complexion Skin Care Liposomes Plus may be used in the treatment of Rosacea, couperose, pigmentation and ageing skin.
In the treatment of pigmentation, we suggest combining Complexion Skin Care Liposomes Plus with Vitamin B Complex Liposome and Vitamin C Liposome in a custom blended base cream. Plant Liposome Serum would be a perfect addition to using in neat application underneath this custom blended base cream.
For the treatment or Rosacea consider combining Complexion Skin Care Liposomes Plus with Liposome Concentrate Plus.
The ageing skin would benefit from combining Liposome Skin Care Liposomes Plus with Vitamin A Nanoparticles and Vitamin C. Anti-Wrinkle Serum in neat application underneath this custom blended base cream would round an anti-ageing regime off perfectly.
*** ***
For more information call: 1855-433-7685 | E-mail: info@dermalsystems.com Visit: www.dermalsystems.com